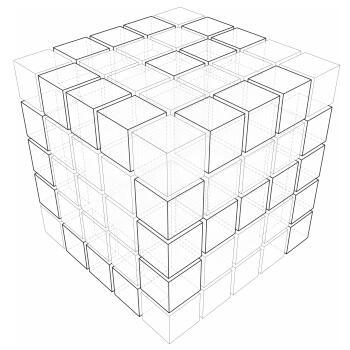 — Object-e architecture is a platform, created in 2006, in order to explore new territories in architectural design. Since then, the aim of the activities in which it takes part, is the constant invention of processes and strategies that will allow architectural creation to be in continuous transformation. Object-e engages design at its various scales, trying to graft together the technological, social, political and ecological issues that architecture is facing today.
Object-e is based on several collaborations with people coming from different backgrounds, with different design intentions and agendas. The outcome of object-e, being in many cases collaborative, is therefore defying any concept of style; Identity is formed through difference and constant transformation.
Object-e operates in architecture and design in three different – but always connected – levels: Through specific design projects that are answers to specific design questions, private projects or competitions. Through experimental research projects that are aiming to extend our understanding of space, digital media and fabrication. Through teaching; either in established institutions or independently, the sharing of knowledge is always the core that allows the rest to happen.
— Dimitris Gourdoukis holds a PhD in Architecture from the Aristotle University in Thessaloniki, a Master in Architecture from Washington University in St. Louis and a Diploma in Architecture from the Aristotle University. He has taught at the School of Architecture / Sam Fox School of Design and the Visual Arts at Washington University and worked for three years with Axi:Ome llc. Currently he is teaching at the graduate program of the School of Architecture at Aristotle University of Thessaloniki and at the post-graduate program 'Advanced Design'.
— Katerina Tryfonidou studied architecture at the Graduate School of Design at Harvard University (Master in Design Studies) and at the Aristotle University of Thessaloniki (Diploma in Architecture). She was an adjunct lecturer at the Sam Fox School of Design and the Visual Arts at Washington University in St. Louis where she taught design studios, representational methods and digital media in architecture at the undergraduate and graduate programs. She is a registered architect in Greece with extensive professional experience in the US and in Greece.
— The object-e design team is:
—— Nefeli Charchari
—— Xenia Papastergiou
—— Anastasia Drougka
—— Stavros Oikonomidis
— Past members of the team:
—— Giorgos Anagnostopoulos
—— Nikos Christodoulou
—— Spyros Efthymiou
—— Elena Giannitsopoulou
—— Christos Gourdoukis
—— Zarmina Qazi
—— Constantinos Miltiadis
—— Eleanna Panagoulia
—— Garyfallos Papadopoulos
—— Maria Terzidi
Object-e is open to new collaborations in all the fields that it is engaged: design, research and teaching. Please send proposals or questions to: object.e.architecture@gmail.com.
Object-e is always looking for motivated people to participate in its design and research projects. Please send a short portfolio and a resume to: dimitris@object-e.net